Bhutan is a lost kingdom, nestled between Tibet and India. The gentle Bhutanese are ruled by a young king and his beautiful queen (pictured above). In this sacred land, a story of hope started in June 2014. An uneducated lady called Karma from a small eastern village in Bhutan was worried about her future, her family s future. Thankfully, she met a big sister from a foreign land who recognised her talent in producing beautiful hand made things. The sister, whom Karma calls Ana (means sister) called upon other sisters and together, all these sisters from international places reached out to Karma and gave her hope.
Today, less than two months since Ana helped Karma, its Karma's turn to give hope to her own sisters in Bhutan. This is the other story of hope. Please read on......
Nim Dema is one of the dozen home based weavers who are working on the Ana by Karma project. She has weaved 10 scarfs for Ana by Karma, under the guidance and support of Karma.
This is Nim's story, faithfully translated by Bhutan volunteers and (lightly) edited by Ana in HK to help non Bhutanese follow the story.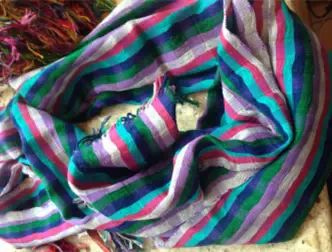 "My husband and I are illiterate. We do not have any future. My husband sometimes does carpenter work. We have three boys.
After class 10 (last free year of education), my eldest son could not continue his studies so he joined in Vocational Training Institute in mechanic fields for two years. We pray he will be employed in the private automobile workshop. My second son is studying in class 7 Arts. My youngest son is in government school in class 1.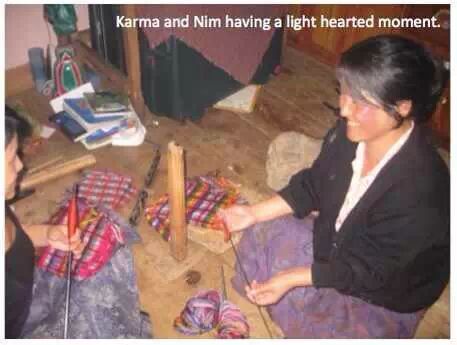 Karma warps* the scarf in special and nice colour combination, and teaches me how to weave them following her pattern. So far I have weaved 10 scarves for Ana by Karma. Yes, I would like to weave more. I am happy because made income and support my family in a small way. I hope to make more scarfs. We want to thank our scarf buyers and Karma for giving me this chance.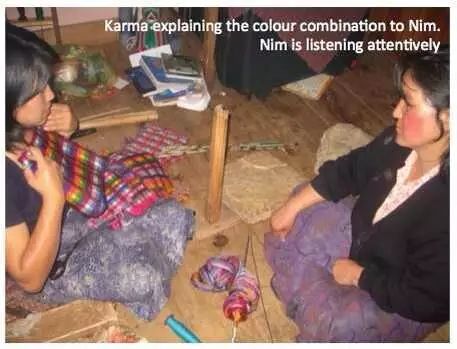 '* warping a scarf – wrapping rows of thread onto the loom before the weaving process (Ana in HK tries her best to explain but not good enough because she herself never did any warping!)